Today is a wonderful day! Today is a day of celebration! Today my darling! my most favourite and most significant bad influence! my partner in all non jailable crimes

julester1
is having a birthday, because IS her birthday! IT'S LIKE MAGIC!!
Jules you are my idol - well more big siste/donna moss of my fandom life - because idols are distant (and SING really boring songs and are scary) and you can't give idols TACKLEHUGS! But you aren't distant - you are the friendliest, most fantastic person I know and also I like giving you tacklehugs! because you are AWESOME!
I hope your day is fantastic and wonderful and you have a BRILLIANT time - I am watching Gilmore Girls in your honour!!! - and you get lots of love from lots of people! I wish you the best of everything and I hope we get to catch up soon - no I DEMAND IT!!!!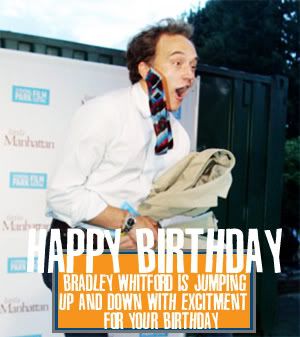 have a fantastic day (and just for today I will admit I am SOMETIMES the bad infleuce!) and I loooooooooooooooooooooooooooooove you. *kissyfaces*